Best Affordable Android Smartwatch You Should Buy Now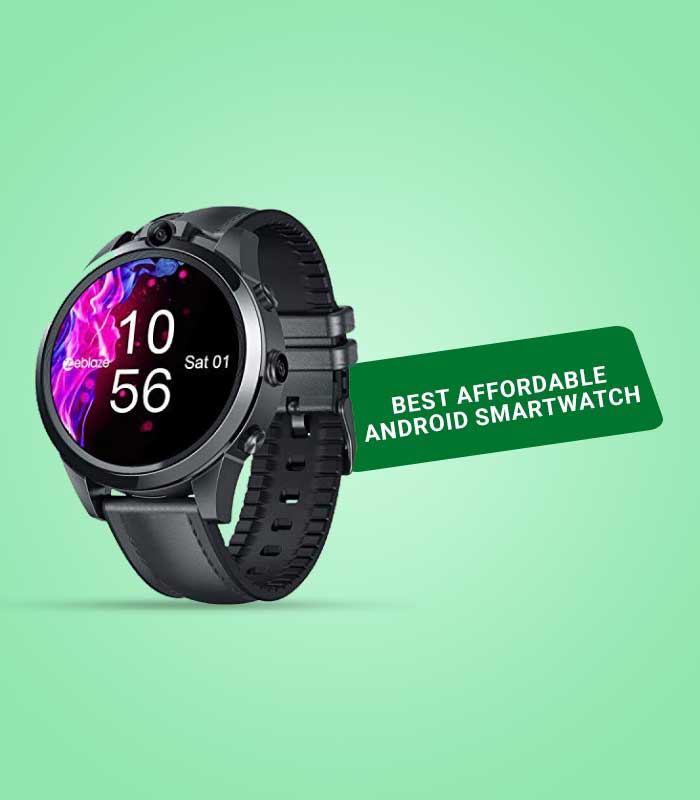 We are in the age of smart devices and smart devices come to life with an operating system. However, the most popular operating system is Android. As a result, we always expect our phones and smartwatches to be in sync and to run on Android. In this article, we will talk about the best affordable android smartwatch.
1. Zeblaze Thor 5 PRO:
The first on our watchlist is Thor 5 Pro from Zeblaze. Zeblaze has been teasing the market with its bombastic smartwatches for a long time. The Thor series is just one of them. We would say, they have made a smartphone out of a smartwatch this time.
Let us begin with the processor. Thor 5 Pro has a quad-core MTK6739 1.25 GHz processor, and an IMG GE8100 GPU to handle the massive android system. The Thor 5 Pro has 3 GB RAM and 32 GB ROM to handle all the difficult and heavy tasks with unmatched smoothness and speed. The watch has a premium design with its ceramic bezel, hybrid leather straps, and a Corning Gorilla Glass 3 protects the watch display.
Thor 5 Pro has a 1.6 inches LTPS crystal touch screen display. The 5 MP dual cameras will help you take photos with ease and clarity. You can even make video calls. It has a powerful 800 mAh battery. 4G LTE bands allow you to place or receive calls all around the world. You will have sports tracking, a heart rate monitor, a calorie counter, GPS, a speed and cadence monitor, and a step counter with this smartwatch. Because of Android, you will also get the Google Play Store apps on your smartwatch.
2. Zeblaze Thor 6:
On its website, Zeblaze is calling its Thor 6 the flagship killer. They are not wrong. The hardware they have put inside this monster is undoubtedly top of the line. Let us have a look inside.
Zeblaze claims Thor 6 to be the first-ever smartwatch with an octa-core Helio P22 processor. The watch also packs a muscular 4 GB RAM and a bottomless pit like 64 GB ROM to run the Android 10 system. Pretty awesome, isn't it?
It has a 1.6 inches display round-shaped and full-touch screen with 400 x 400 resolutions. You can unlock your watch with your face now! How amazing the security is! It has a ceramic bezel, 830 mAh battery, over a thousand watch faces, and the app market. With 4G LTE bands, you can receive and place calls or video calls from or to all over the world with ease. The dual 5 MP system will help you make video calls and take photos or videos right from your wrist. Thor 6 also has sports tracking, GPS, heart rate monitor, app market, voice search, notifications, and so many more. You cannot get enough of this lovely monster!
3. Lemfo Lem 12 Pro:
The next watch on our list is the Lemfo Lem 12 Pro. It was released in September of 2020. It is a very lightweight watch with only 70 grams of weight. It has a round shape and no resistance to water.
Lem 12 Pro has a 1.6 inches touch screen 400 x 400 resolution IPS display. The MT6762 processor and the PowerVR GE8320 GPU work inside the smartwatch to handle all the burdens of the Android 10 system. It has a massive 4 GB RAM and 64 GB ROM to handle all of your important storage needs. If you are in the market you should check this out.
4. Lemfo Lem T/ TICWRIS:
The next one is from Lemfo again - Lem T / TICWRIS. Although we cannot say why it was named TICWRIS, we definitely know what kind of punch it packs for us. The Lem T was released in November of 2019. Let us have a look at the features and hardware.
The first thing you will notice about Lem T is its rectangular shape due to its huge 2.86 inches OLED display with 640 x 480 resolution. It is a touch screen display of course. Lem T has an IP67 waterproof rating and weighs 200 grams.
Lem T runs on an MT6739 CPU. The smartwatch has 3 GB RAM and 36 GB ROM to store a massive amount of data of any sort - documents, pictures, videos, music, and whatnot. It has a 5 MP camera as well. Lemfo has included various sensors in Lem T - GPS, heart rate sensor, pedometer, etc. It can play MP3 and MP4 audio files have a speaker and microphone, and a dock charger. The smartwatch is running Android 7.1 and of course, comes with Google Play Store. The smartwatch monster has a 2700 mAh battery, a perfect fit for its body.
Although the hardware Lem T has is not uncommon, the display definitely is. If you are a fan of larger displays on tiny devices, you may take a look at this.
5. Lemfo LemX:
The last Android smartwatch we will be talking about is the Lemfo LemX. We call it Lem X but do not think of it as 'lame'. It has pretty nice hardware for a smartwatch that came out in August of 2018.
Let us start with the display. The Lem X fashions are the second biggest display on our list after Lem T. It is 2.03 inches large with 640 x 590 resolution. At its core, it has an MTK6739 processor, 1 GB RAM, and 16 GB ROM. At this point, it has the same type of hardware that an old android phone would have. So, not too bad for a smartwatch, is it? It has WIFI, a heart rate monitor, a pedometer, GPS, etc.
The camera is a bit better than the Lem T, 8 MP. You also get a microphone and speaker with the smartwatch so you can make calls around the world. Android 7.1 is running the smartwatch.
There you have it! A list of Android smartwatches to quench your thirst for knowledge! Hope this will help you a lot to decide when buying the best affordable android smartwatch.